Whether you are an Alopecia sufferer or have scarring as a result of a medical procedure scalp micropigmentation is effective in camouflaging scars and bolstering the appearance of existing hair. Our scalp micropigmentation specialists can help you look great and feel confident in your final appearance.
Medical scar camouflage
Often our scalp micropigmentation clients have formerly had a hair transplant procedure which healed poorly and now suffer from visible scars at the back of the head. These client's may find themselves restricted in their hair styles in cases where they have lost more hair since the procedure or did not have a successful hair transplant in the first instance. Shaving the hair down to hide the thinning and balding area will reveal the scaring and growing the hair at the back will make the thin and balding area more obvious.
Scalp Micropigmentation can help alleviate this problem by effectively camouflaging the scars.
The scalp micropigmentation process for scar concealment does differ slightly from the procedure used for typical male pattern baldness or Alopecia.
Scar tissue is often thicker than surrounding skin tissue and does not always respond to pigment the way a thin section of scalp might. As a result, clients receiving scalp micropigmentation for scar camouflage may require a few more sessions to achieve optimum results.
Often the treatment area needs to be a larger area than just the scar tissue. The pigment may be extended 1-2 cm above and below the scar to effectively blend it in with the surrounding hair.
---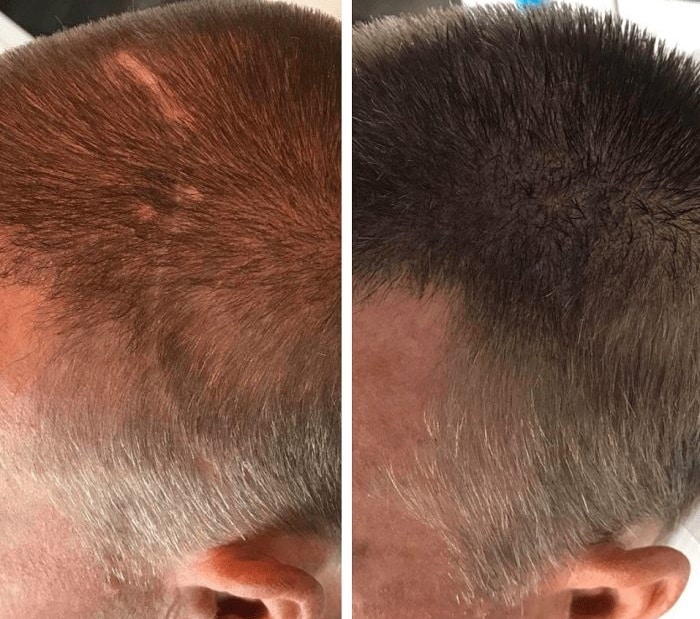 Alopecia camouflage
Using Scalp Micropigmentation it's possible to camouflage areas of thinning hair caused by scarring Alopecia hair loss.
In this type of Alopecia hair loss, the hair follicle is completely destroyed and no longer is able to respond to medical or topical therapies to encourage hair growth to return.
Depending on the condition, the skin where the hair has fallen out is likely to be affected in some way – usually appearing inflamed until the condition matures and the skin becomes very soft and shiny as it lacks the hair follicle beneath the skin.
1
Conditions which can cause scarring Alopecia hair loss
Lichen Planopilaris
Discoid Lupus – a mild form of lupus affecting the skin causing scaly marks and hair loss
Folliculitis Decalvans – a rare form of alopecia that commonly affects men causing baldness and scarring of the areas it affects
Scleroderma – a condition affecting the body's connective tissues. This appears as hard, puffy and itchy skin
Frontal Fibrosing Alopecia – a form of alopecia where post-menopausal women's hair follicles are damage and the hair falls and is unable to grow back.
Over three sessions we can camouflage the areas of skin showing through long hair or, if a male chooses to shave his scalp, we can easily blend and replicate the existing stubble appearance into the bald area.
---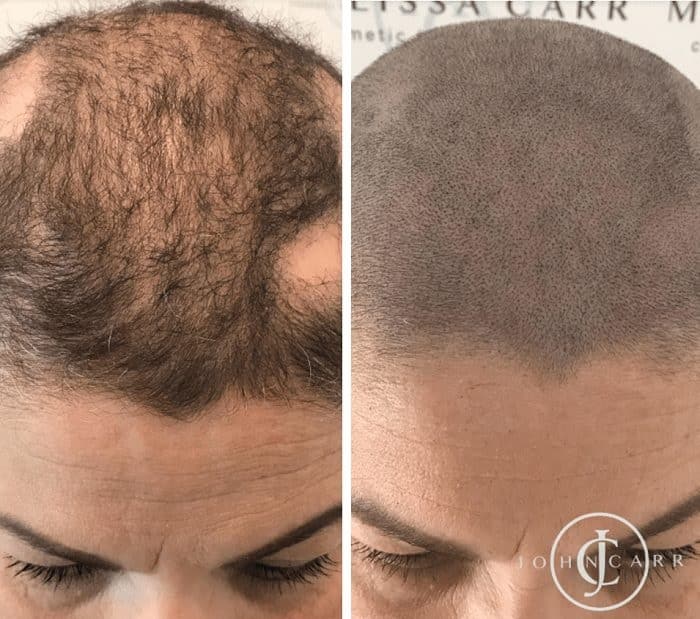 Frequently Asked Questions
1
Is Scalp MicroPigmentation suitable for everyone?
Scalp MicroPigmentation is suitable for Men and Women, it is suitable for a shaved look, for hair density, Alopecia and for scar camouflage.
Medical conditions, and medications determine your suitability for SMP. Other factors that determine your suitability are for women - whether you are pregnant or breastfeeding etc. Although, we will complete very thorough paperwork prior it's important that you disclose anything that may affect your suitability.
The pain is very minimal due to the pigment being implanted very shallow in the scalp. Most clients fall asleep during the long SMP sessions. Some have even described it as relaxing. Every client experiences SMP differently. We also have a Netflix in each of our clinics to help pass the time. It's a good opportunity for a Netflix binge with your favourite series or movies.
3
Does the Scalp have to be a shaved look?
Not always. SMP for baldness always look best shaved to a number 1 or number zero as this will blend in perfectly and look the same texture.
For a client with thinning hair wanting to add a thicker fuller look, theres no need to shave the scalp, we can add hair density amongst the existing hair to create a thicker fuller look. This includes adding hair density to complete a fuller look after a hair transplant.
You can leave the clinic after your SMP procedure and go straight back to work. The pinkness usually lasts only an hour or so for most people. After the procedure you will not be able to swim or exercise for 7 days. You will also not be able to wash your hair for 5 days.
5
What about your equipment?
Our equipment/tools/machines use disposable parts, therefore every procedure is done using a brand new needle as well as the attachments, all of which are individually wrapped and sterile, all disposed of after each treatment - as per health and safety requirements.
6
How do you choose the colour?
Your skin type and remaining hair will guide us with pigment choice for your Scalp MicroPigmentaion. We will perform a test patch with 2 pigment tones an decide from the healed result which tones we will use to carry out the procedure to best blend in with your shaved look or existing hair. Our range of pigment tones is vast.
Each case is unique and individual, however most clients return for a Scalp MicrPigmetation touch up between 3 - 5 years. Depending on life style and environmental factors, ie surfer/sun exposure. Working out doors etc
8
What does it look like as I age?
The pigments we use will softens over time, as you age and hair colouring changes we have the opportunity to adjust the pigment tones to suit any hair colour changes. As well - if your hair loss progresses we will add more Scalp MicroPigmentation to the areas of new hair loss when you come in for a Colour Boost.
9
What can and can't I do after my procedure?
Proper care following your procedure is necessary to achieve the best results. We will provide you with a detailed aftercare sheet on the day. This will include:
Application of a topical aftercare cream, depending on which procedure you have.
No heavy exercise for 7 days, however you can do low cardio exercise such as weights and walking but no exercise that will cause heavy sweating, this includes saunas.
No ocean or pool swimming for 7 days.
10
What happens during the initial consultation?
We talk in detail about expectations of both the client & treatment. We talk about custom designing YOUR age appropriate hairline. A test patch can be carried out.
We discuss pigment tones, Shape and Balance of your facial features. We pencil in a hairline (for those that are bringing their hairline bought forward). We check the condition of the scalp, we show you before and after photos relevant to your own scenario.
11
What about bookings, payment & cancellations?
A deposit is required when booking your treatment to secure your time slot. The remaining is paid in 2 parts at the first 2 appointments . We are currently looking into finance options and will update this option soon.
I have alopecia universallis (which means total body hairloss) and I have recently had the pleasure of working with both Melissa and John. John recently completed my SMP treatment on my scalp and I am over joyed with the result. John was extremely professional throughout the whole process, showed empathy, understanding and consulted with me every step of the way. The result has been life changing for me as I now feel so much more confident in myself and know this summer nothing is going to stop me enjoying life, even without my hair. I can't wait for my next treatments which involve having my eyeliner and eyebrows tattooed by Melissa. I can totally recommend John and Melissa to anyone who is thinking about any of these treatments. They are such kind and professional people who are very talented in their profession and they genuinely care about their customers.

I had spent a long time unhappy about my very thin hair, as a woman this has been a huge thing for me to deal with. I became very distressed over it & very self conscious. I tried many things to improve my hair growth and nothing worked. When I saw Melissa feature on the Seven Sharp with an SMP client I was excited at the prospect this could give me. Having now completed my SMP I couldn't be happier. The simulated hair follicle look has given me a fuller, thicker look. I feel so much better and more confident. I wish I had known about it a long time ago. Thank you John & Melissa you're a great team

I am extremely happy with the result. My hair looks much fuller and entirely natural. It has exceeded my expectations. Melissa and her team are extremely professional and highly skilled. The procedure is comfortable and performed in a relaxed atmosphere. I only wish I had done this a long time ago.

Going through with the SMP procedure was the best choice I could ever make, the process was very smooth, pain free and the results have changed not only the way the world sees me but the way I see myself. My confidence is back and I no longer feel I need to hide away from social events and activities. Highly recommended.

I am really really pleased with the outcome of my Scalp Micro Pigmentation treatment. I feel and look a million dollars. Nobody noticed my scalp had been tattooed. Until I tell them. Professional job, fully recommend John & Melissa to whoever is considering this treatment.

Hey guys, I finally threw the cap away! I'm happy to show my scalp now that I've had the SMP, no more hiding behind my cap. My girlfriend and close friends all think it's mint. So glad I went ahead. I'm stoked to no longer feel bald. You guys put my hairline in the right place, it feels just right. So good to feel my confidence back again.

SMP is the best thing I ever did, I only wish I'd done it sooner.

It has given me back confidence I lost in my early 20's when I started to go bald. I hid behind wearing a cap to hide my hair loss for 20 years.

Since getting SMP I don't wear a cap anymore. It's awesome seeing my hairline again & not worrying about looking bald anymore. Melissa did a great job of making my hair So realistic.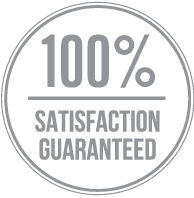 Melissa Carr Cosmetic Tattooing wants to ensure that you are thrilled with the results of your Scalp Micropigmentation procedure long after you leave our clinic.
Within the first year of your SMP procedure if you feel you need a little extra touch up this is done free of charge.
Book your Scalp Micropigmentation consultation or next appointment below
Have some questions about scalp micropigmentation? Not sure if it will work for you?
Speak to John & Melissa Carr or book your free no obligation consultation.
Central Auckland clinic
Our Scalp MicroPigmentation Clinic is centrally located in Point Chevalier, only 21 kms from the airport and just a few minutes drive to the CBD.
Location
7 Premier Ave, Point Chevalier, Auckland 1022
West Auckland clinic
Established in 2015 our purpose built Helensville clinic has provided a welcome escape from the hustle and bustle of the central city.
Location
7 Karaka Street, Helensville, Auckland, 0800